About GenoPalate
GenoPalate was founded in 2016 by Dr. Sherry Zheng, Dr. Paul Auer, and RD Matt Edwards.
The purpose of GenoPalate is to help you optimize your nutrition by providing you with personalized recommendations on the foods you should eat, based on the genetic data you upload to their website.
They further emphasize the goal of their company through their slogan, "eating for your genes."
This might sound amazing, but it doesn't work as well as you might think.
GenoPalate DNA Kit
If you don't have your DNA file, GenoPalate offers its own DNA Testing Kit for you to purchase.
Unfortunately, you won't be able to download your raw DNA file from GenoPalate, so you can't use your collected genetic data with another company if you choose to do so. Because of that, it's probably a better idea to get a DNA kit from another company, so that you can keep your options open if you decide to use it elsewhere.
If you already have a DNA file, they offer a package that uses your existing data to generate the report. But, they're limited in that they only accept DNA files from 23andMe and Ancestry. Any other file uploads cannot be used, and therefore rendered useless for GenoPalate.
GenoPalate Report & Other Features
The purpose of the GenoPalate report is to identify your genetic variants for nutrient-related genes. This helps them determine factors like how well you absorb Vitamin B12, or if your body breaks down caffeine at a slower than average rate.
They have categories for:
Carbohydrates
Fats
Proteins
Minerals
Vitamins
Sensitivities
Substances
Each section shows you genes related to the category, what genotype you carry, and the recommendation you should implement (like increasing your carbs, or decreasing your fibre intake.)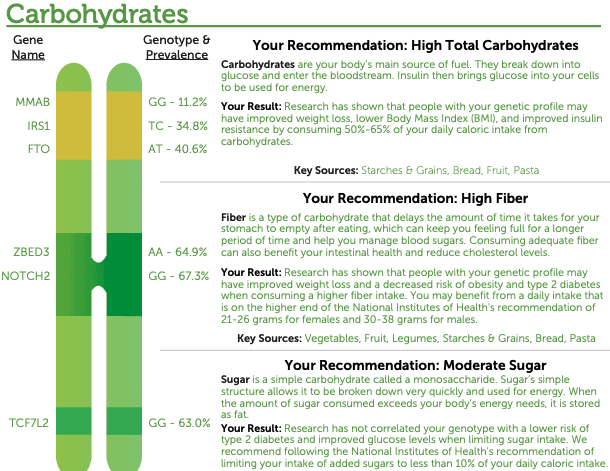 After that, you're given a list of 85+ best foods for you in 16 different categories (meats, fruits, veggies, etc.)
Unfortunately, many of these recommendations are extremely vague and generic. By scouring the internet for GenoPalate reviews, you will find that there are A LOT of people that state that the reports were "too simple," "provide you with very common, cookie-cutter recommendations," or that the foods recommended were extremely odd and goes against health issues they're experiencing.
That's the problem with only relying on your genetic data to determine what you should eat.
At SelfDecode, we emphasize that genes are always a part of the solution, but not the complete answer. We're advocates for gene-based health, and urge you to use your genes to determine your pre-dispositions. But you should combine that knowledge with your lab results and any symptoms or conditions you're actually experiencing before taking action.
GenoPalate uses your genes to provide recommendations, but it doesn't take into account things like height, weight, build, age, gender, health history, or lifestyle.
An extra feature provided is Personalized Recipes. By giving them your dietary preferences, GenoPalate uses that information along with your genetic data to create recipes for breakfast, lunch, and dinner.
This would be a great feature! However, because of the inaccuracies and generalizations of the report, it's hard to consider these recipes as specifically personalized for you.
GenoPalate Privacy Policy: How Safe Is Your Data?
GenoPalate advocates for safety and security when it comes to the privacy of your genetic data.
They implement a de-identification process, which means that they have a procedure that separates your genetic data from your personal information. They also encrypt each individual data to ensure secure storage.
They don't sell or rent your personal information to third parties for research or any other cause, without your consent.
So, while it may be possible that your information be used in the future, you will have to give them permission before they do so.
GenoPalate Cost & How Long It Takes To Analyze Your DNA
A GenoPalate DNA Testing Kit + Report costs $149, and it takes roughly 6 weeks to get your report. This includes shipping their DNA kit to you, taking your sample and sending it back, and analyzing your data to generate your report.
If you already have an existing DNA file, you can get the report for $79. It can take roughly 1-2 weeks to analyze your data and generate a report for you.
GenoPalate Reviews
233 customers rated the company an average of 3.7 of 5 stars on Trustpilot. Many customer reviews of GenoPalate appreciate the instructive video on how to navigate the test results. One user says that they wished the food list provided was more extensive, but most are satisfied with the information they received from the company.
On Amazon, GenoPalate reviews are mixed, with an average of 2.6 of 5 stars based on 23 reviews. Similarly, a customer complains about the limited food list given by the company and wishes it was more comprehensive. Many say that you need to have some knowledge about nutrition to get the most out of the report. Conversely, users say the test is easy to use.
People on Reddit question if GenoPalate is worth it. One user says they received a list of unusual foods with their report, which they said were hard to find.
Summary of GenoPalate
Although the general idea of GenoPalate is great – it would be nice to have a service that can provide you with accurate, personalized recommendations on what to eat – it doesn't fully deliver on what it promises.
The reports are rather generic and simple and don't provide you with a truly personalized experience.
Also, you're not able to download your raw DNA file from GenoPalate, which essentially forces you to purchase another DNA Kit if you want to use other companies to find out things like your ancestry.
It's an interesting concept but needs to be more accurate and optimized for it to be considered the go-to DNA company for health and nutrition. GenoPalate only looks at a limited number of SNPs related to nutrition, so you might not receive the most accurate results.
SelfDecode
For a more holistic and truly personalized approach to health, SelfDecode offers prioritized diet, lifestyle, and supplement recommendations aimed at optimizing your well-being. Unlike GenoPalate, SelfDecode uses AI and machine learning to analyze up to 83 million genetic variants from a typical DNA file.
Beyond this, SelfDecode is on a mission to make people's health care more personal. It doesn't stop at analyzing more of your DNA – SelfDecode offers every user a unique experience by providing easy-to-understand information about your genetic data and gives you the tools needed to help you formulate a plan on how to optimize your health.
If that's something you're looking for in a DNA company, then give SelfDecode a try.