Overview
Products: Ancestry, Health & Trait Genetic Analysis
Cost: Ancestry + Traits ($99); Health + Ancestry ($199)
Reports: Analyzes ancestry across 45 different populations, Analyzes genetic traits, Health Predispositions, and carrier statuses
Raw data access: Yes
Privacy: If given consent, genetic data may be used for scientific research/to be published in scientific journals.
Regardless of consent, user genetic data may be privately shared with third-party partners.
Alternatives: Health – SelfDecode; Ancestry – AncestryDNA, MyHeritage
23andMe Pros and Cons
Pros
Cons
– Analyzes DNA for both Ancestry and Health
– One of the largest DNA databases on the market making it convenient for finding relatives
– Aesthetically pleasing and user-friendly user interface
– User DNA used to empower medical research for consented individuals
– Discloses user DNA & data to third-party partners regardless of consent status
– Doesn't allow raw data uploading from other companies.
– Lack of SNPs being analyzed to compile risk. Reports analyze only 1 or 2 SNPs associated with each condition.
– Lack of coverage for health-related matters. Only 56 Health conditions were assessed in total.
– No customized lifestyle recommendations are given to counteract genetic risk.
About 23andMe
23andMe was founded in 2006 in Sunnyvale, CA by Molecular Biologists Anne Wojcicki and Linda Avey. 23andMe was one of the very first direct-to-consumer autosomal DNA testing services offered to the public.
In 2007, Google invested $3.9 million into the company. Wojcicki was married to Google co-founder Sergey Brin at the time. Genentech, New Enterprise Associates, and Mohr Davidow Ventures also had early investments in the company.
Today, 23andMe is one of the largest direct-to-consumer DNA companies on the market, boasting 10 million users in its database as of 2020. 23andMe's primary mission is to revolutionize the health and wellness sector through user data research.
Review of 23andMe Products & Features
23andMe offers direct-to-consumer genetic testing for health and ancestry analysis.
Customers will be able to choose from 3 different Genetic testing services: Ancestry + Traits ($99), Health + Ancestry ($199), and a 23andMe+ Membership (introductory offer of $169 + $29/month).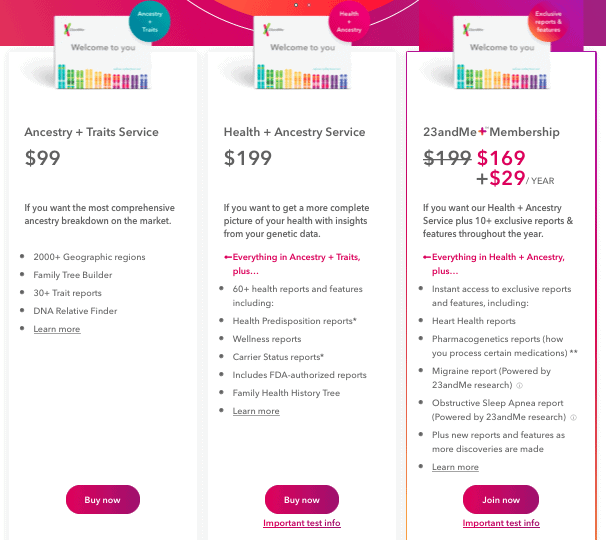 The 23andMe Ancestry + Traits test includes the following features:
Ancestry Composition Report
DNA Relatives Feature
Traits Reports
Haplogroup Reports
Neanderthal Ancestry Report
Additional Features
In addition to the reports listed above, the Health + Ancestry service includes:
Carrier Status
Health Predisposition Reports
Wellness Reports
A 23andMe+ Membership offers exclusive access to new health reports and advanced ancestry features. However, it is only available to those on 23andMe's latest genotyping chip.
Ancestry Reports
Their Ancestry portion analyzes ancestry across 45 different populations and 1500+ ancestral locations.
Ancestry is divided into 5 regional categories: European, Middle Eastern and North Africa, East Asian and Native American, Sub-Saharan African, and Oceanian.
It also includes an analysis of the Maternal and Paternal Haplogroups as well as the number of Neanderthal variants.
You can view a sample report here.
Traits and Wellness Reports
The trait section analyzes 30 different traits that are related to your appearance or senses. Examples of traits analyzed include information like your food preferences and your physical appearance.
The Wellness section analyzes how a person's DNA may interfere with diet, sleep, and exercise and consists of 8 reports. This is a rather low number of reports when you consider the vast number of health areas that your DNA can affect.
Below is an example of a 23andMe Wellness Report that discusses your weight.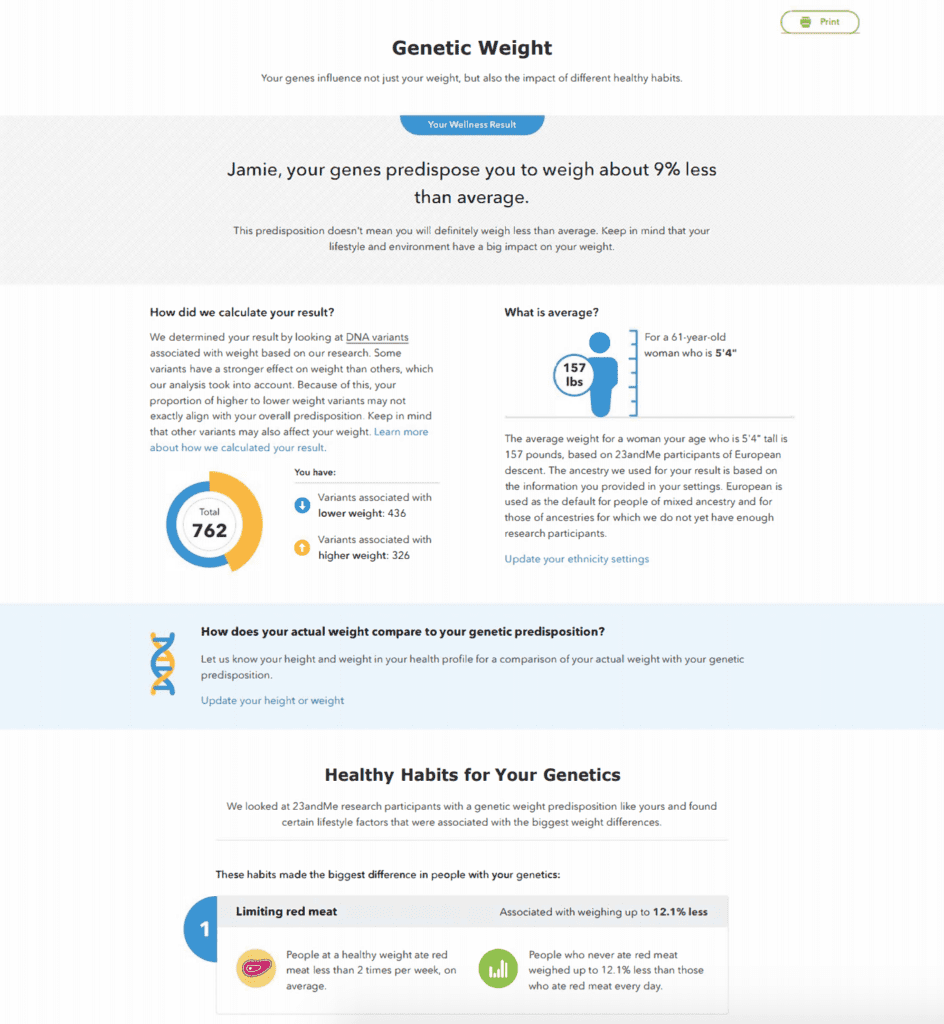 As you can see above, this Wellness Report calculates the total number of variants a person may have associated with weight and uses this to calculate the overall odds of a person's tendency to weigh more or less.
The variants are not readily displayed by 23andMe but can be seen under the "Scientific Details" tab. However, 23andMe does not provide information about what you can do to increase or decrease the expression of your specific genes depending on your variants.
Health Predisposition Reports
The Health Predisposition Section provides genetic predisposition for 14 medical conditions and diseases as well as a person's carrier status for 44 conditions.
The Health predisposition section analyzes the following categories:
Late-Onset Alzheimer's disease
BRCA1/BRCA2
MUTYH-Associated Polyposis
Parkinson's disease
Age-related Macular Degeneration
Celiac Disease
Alpha-1 Antitrypsin Deficiency
Familial hypercholesterolemia
Hereditary Amyloidosis (TRR-Related)
Hereditary thrombophilia (HFE-Related)
Type 2 Diabetes
For example, this health report tells the user their Late-Onset Alzheimer's Risk risk: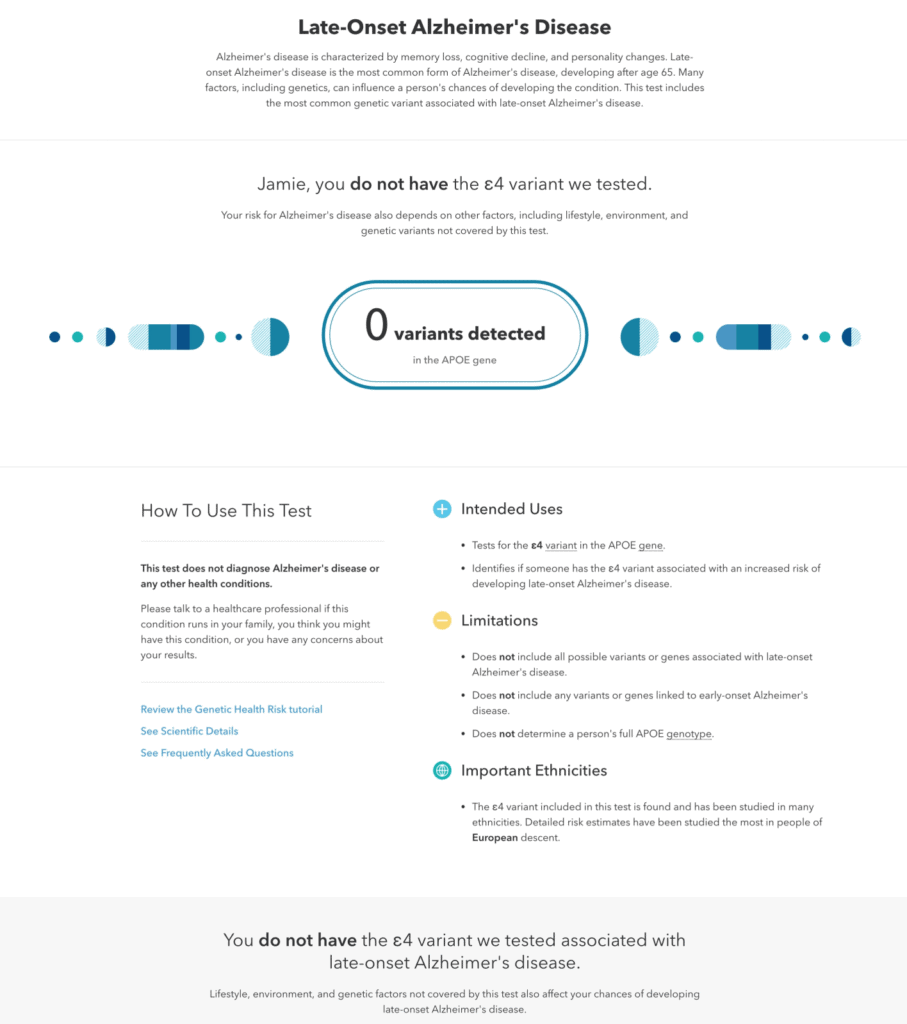 In each Genetic Health Risk report, it will display your overall genetic likelihood for the condition. It displays a brief description of the condition, the associated gene, and the scored allele. It will also include other useful information such as the ethnic demographics the condition is commonly found in and how the condition is commonly treated.
You can also view another sample report here.
Carrier Status Reports
The Carrier Status reports are designed very similarly to the Health Reports. However, instead of telling you about variants that may affect your health, it tells you about traits that may be passed on to your children and potentially impact theirs. These reports feature rare genetic disorders with critical health implications.
You can view a sample report here.
Health Recommendations from 23andMe
23andMe provides an analysis of 14 Health Conditions for a user's genetic risk and 44 Carrier Status reports which detail conditions that may not be expressed in the user but can be passed on to their children.
14 health conditions is a low amount of coverage relative to the wealth of medical research on DNA and what could be gleaned from raw DNA files. For those who choose to get a 23andMe+ membership, the company offers 12 additional health reports and access to their pharmacogenomics report. However, this upgrade is not available to every customer, only those on their latest genotyping chip.
In each of the health conditions evaluated, only 1 or 2 SNPs are evaluated. 23andMe leaves out many important SNPs in each of their reports that have been proven to have strong genetic implications for the condition. This makes 23andMe's computations for genetic likelihood less accurate or informative.
In addition to this, while 23andMe informs the user of their genetic risk, they provide little to no guidance on how a user can alleviate their genetic risk. The action plans are not customized to the individual's DNA. Instead, general lifestyle tips are included in every report that is in everyone's best interest.
Review of 23andMe Privacy & Data Security
23andMe has built their business model on sharing consumer data with third-party businesses and research organizations for financial incentives and scientific insights. A significant portion of 23andMe's earnings is made from sharing user data with these partners.
For users who consent to share their DNA, genetic data and survey responses may be published in peer-reviewed journals. Data is aggregated and stripped of the user's name and contact information before research use.
Unfortunately, 23andme also shares their entire user DNA database with third-party research partners regardless of consent status. Some of the partners that are given access to this data are noted below.
Partnerships
23andMe has partnerships with more than a dozen pharmaceutical and biotechnology firms. A notable partnership is with GlaxoSmithKline, one of the largest drug makers in the world. They have been granted exclusive rights to mine 23andMe's customer data for drug targeting. GlaxoSmithKline has also invested $300 million into 23andMe.
23andMe also has a partnership with Airbnb granting them exclusive rights to consumer data. The partnership is meant to bridge the gap between ancestry and travel and appeal to Airbnb's budding Heritage Tourism market demographic.
As of 2020, 23andMe has been dabbling into the pharmaceutical industry, having created its first-ever in-house drug, an initiative that investors predict will become a lucrative break-through for the DNA company. 23andme has developed a partnership with pharmaceutical company Almirall to further develop and market this drug.
In January 2021, 23andMe announced they will go public through a partnership with the Virgin Acquisition Group, a firm backed by billionaire Richard Branson.
Other notable partnerships include Genentech, Pfizer, TrialSpark, several universities such as Stanford University, the Broad Institute of MIT and Harvard, as well as nonprofit medical organizations like the Lupus Research Institute and Michael J. Fox Foundation. The company is also involved in research initiatives with government-funded genome collections in the U.K. and Finland.
23andMe vs SelfDecode
23andMe offers genetic insights into 56 health conditions. SelfDecode offers genetic insights on thousands of health conditions.
23andMe shares consumer DNA to third-party organizations and scientific research. This is a core aspect of their business model. SelfDecode does not share any consumer data with third-party organizations, government agencies, or research institutions.
23andMe computes a user's risk for a condition by cherry-picking one or two SNPs associated with the condition. SelfDecode compiles as many of the most scientifically valid SNPs to compute overall genetic risk for a condition.
23andMe recommends only general lifestyle tips and does not customize its action plan according to one's genetic makeup. SelfDecode creates a customized in-depth action plan with science-based lifestyle, supplement, and diet recommendations based on each individual's genetic makeup.
23andMe only offers 56 reports and doesn't allow for users to explore pertaining health topics or genes in other varied or in-depth ways. SelfDecode offers a variety of ways for users to explore their genetics through the Wellness Reports, Personalized Genetics Blog, and Symptoms Analyzer. If a user is interested in a specific health topic or gene, they can explore it more through our robust database, blog articles, and search engine.
23andMe does not allow users to upload DNA files to their services. SelfDecode allows users to upload DNA files. You can learn more about the kind of DNA files they accept here.
Comparisons
| | | | | |
| --- | --- | --- | --- | --- |
| | SelfDecode | 23andMe | Nebula Genomics | Dante Labs |
| Comprehensive personalized holistic health recommendations | Yes | No | No | No |
| One-click regimen builder | Yes | No | No | No |
| Products | DNA testing, wellness reports, research-based health recommendations | DNA testing, traits, wellness reports, more accurate ancestry | WGS, health reporting, traits, ancestry | WGS, health and fitness reporting, genetic health risks |
| Raw data access | Yes | Yes | Yes | Yes |
| Cost (USD) | $97 – $397 | $99-$199 | $0 (limited) – $700 | $670 |
23andme Reviews
Trustpilot – 135 Customer Average Rating of 1.8 of 5 stars
Reviewers on Trustpilot are fairly negative regarding 23andme's services. The most common complaints have to do with poor customer support regarding Account troubleshooting & DNA kit delivery issues as well as "vague" DNA results.
Read what people are saying about 23andme on Twitter
The 23andme hashtag on Twitter is a great place to find out more information about the history of the company and find some articles written about it.
Read what people are saying about 23andme on Reddit
Alternatives to 23andMe
SelfDecode is the best option for health-related DNA analysis on the market. SelfDecode offers an array of user-friendly features to help users make sense of the most important health implications of their genetic data and provides comprehensive DNA reports.
For ancestry services, AncestryDNA is a viable alternative. They have the largest DNA database out of all the direct-to-consumer DNA companies, making it a good candidate for users interested in finding DNA relatives.
Unfortunately, like 23andMe, AncestryDNA also shares DNA data with third-party partners.
23andMe Review Summary
23andMe has become a well-known company for analyzing DNA and has done a good job of being able to provide in-depth ancestry reports due to the number of genetic files in their database.
For users who are mostly focused on learning more about their genealogy and don't have a serious interest in their health, 23andMe's health analysis reports may be sufficient. The reports cover very few health conditions and the conditions they do cover are only analyzed through 1-2 SNPs associated with the condition. Unfortunately, this makes their health DNA reports not only inadequate but also less scientifically reliable.
23andMe partakes in questionable user data privacy practices, allowing third-party partners access to its entire user DNA database (whether consented or not). Many of these companies are large pharmaceutical and technology firms with profit motives.
If you want more insights into your health, an alternative such as SelfDecode can provide you with personalized reports on various health topics. SelfDecode uses AI and machine learning to analyze up to 83 million genetic variants to give personalized health recommendations based on your DNA. With SelfDecode, your data will never be sold or shared with anyone.
SelfDecode
It may not be readily apparent to most people who don't know much about DNA, so let's get some perspective here:
23andMe analyzes only one genetic variant for some health reports – but the human body is made up of about 324 million known variants from sequenced human genomes. So, testing for one small variant in the grand scheme of things may not always be so accurate.
SelfDecode analyzes as many genetic variants as possible per report, with some of their reports analyzing over 1 million for one specific health topic. Moreover, SelfDecode's extensive science team only includes the most up-to-date, research-backed information when creating each recommendation. This means each DNA report along with each personalized recommendation made for you based on your genes is as accurate as possible – so you can start taking action on your health as soon as you discover your prioritized recommendations from SelfDecode.
If accuracy and comprehensive health information is something you're looking for in a DNA company, then give SelfDecode a try.